What was wrong?
GO Transit, one of the most highly developed inter-regional public transit systems in the world, came to BrainMustard for help solving a perplexing problem -- with the highest on-time arrival rate in all of North America, how could it improve its riders' experience to drive even higher customer satisfaction? GO Transit also wanted to identify new non-fare revenue sources, specifically on-site retail offerings, to bolster its bottom line.
Several well-known consulting firms had a go at helping GO Transit. They relied on traditional tools -- executive interviews, customer surveys and focus groups -- but it was all to no avail. GO Transit would need to break with tradition and turn to innovative thinkers and strategies in order to tackle this conundrum and meets its business goals.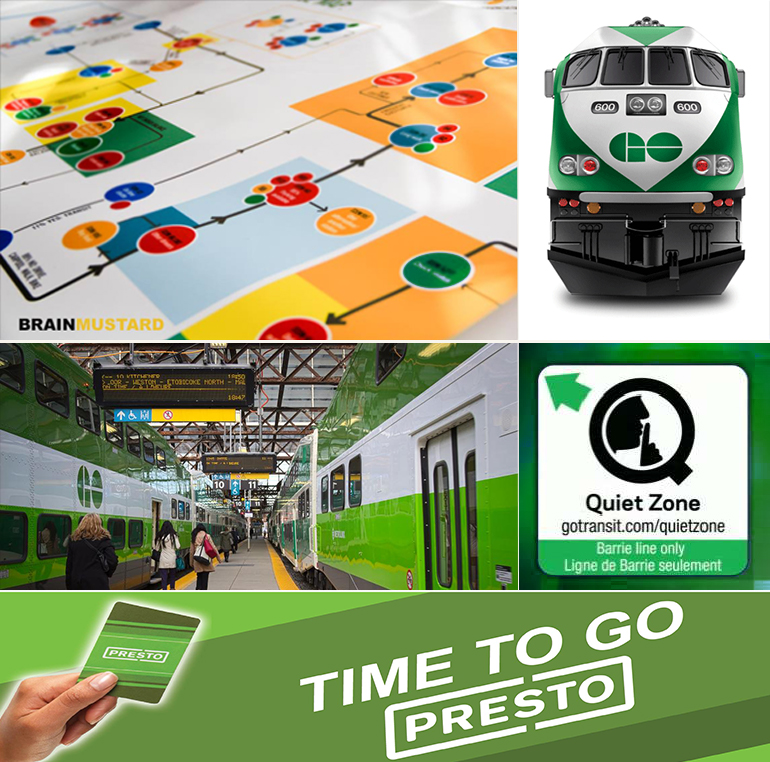 How did BrainMustard help?
Where traditional consulting firms had failed, BrainMustard would succeed using state-of-the-art technology to listen to transit customers' unprompted and organic opinions of public transit. Millions of individual expressions were gathered, and BrainMustard used its expertise to collate, study and understand this cache of data and uncover the stumbling blocks that had been impeding GO Transit in reaching its goals of improved customer satisfaction and increased non-fare revenue.
Having served over 65 million riders annually, GO Transit had a diverse and mammoth population of customers. BrainMustard was able to bring order to this chaos. A twelve-foot customer experience map with over 200 touchpoints put into clear view GO Transit's diverse customer personas and range of psychographic segments. BrainMustard's customer experience map provided a detailed layout of each segment's experience before, during and after traveling. GO Transit executives were finally able to visualize the complex dynamics that relate customer interactions and touchpoints; they were finally able to understand the frustrations and desires, the wants and worries, of all of GO Transit's customers. Not only were these insights invaluable in helping GO Transit meet its goals, they also were at times surprising, counterintuitive and completely overlooked by the traditional consulting firms GO Transit had worked with in the past.
Quick Facts:
What were the results?
Ultimately, GO Transit implemented numerous innovations and enhancements to its customer experience which led to an increase in customer satisfaction. It also was able to improve non-fare revenue by 5% in the first year through enhancements to pre-existing retail offerings, as well as the introduction of brand-new retail ventures.
---
It is as if you [BrainMustard] have been in the transit business for over twenty years.
---
If you would like to see a demo of our interactive customer experience maps or just want to see whether our solutions are right for your company, please contact us. We love to brainstorm with you.
---
More Success Stories:
---